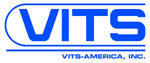 Vits America, Inc.
Celebrating its 80th anniversary, Vits is the World's leading supplier of inline and offline web finishing equipment to the printing and packaging industries. Manufacturing on two continents, and with more than 1000 installations worldwide, Vits cross cut air flotation Rotocut sheeters are the print industries standard for high speed, precession controlled sheeting and piling. Our Multicut Variable Servo Sheeters are designed for infinite variable cut sizes from 6" to 50" and produce some of today's highest value in the label, film & foil, packaging and folding carton markets. In fact, more than 60 O.E.M. printing press manufacturers trust Vits sheeters to finish their web products.
Innovation is the key to success which is why when Goss International® needed new sheeting technology for its latest development, the M-600™ Folia press, they looked to Vits. The new sheeter, developed exclusively in partnership with Vits, will allow web printing on coated stocks with standard sheetfed inks, but without a dryer and provide advanced control of anti set-off applications.
Sheet finishing is only part of the Vits business unit. High speed perforators/die cutters, remoistenable pattern gluers, former folding and plow folding stations and high volume dryers are all designed for seamless press integration. Our Jet Web Finishing Systems division is the world's largest manufacturer of inline and offline direct mail finishing systems.