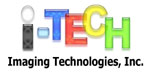 Imaging Technologies, Inc.
Imaging Technologies, Inc. designs and manufactures today's, most innovative printing press register control and ribbon control systems in the world. Established in 2005, I-TECH President and CEO Paul Calinawan believes that innovation drives the printing industry and innovation is the platform for all I-TECH products and services…
We believe in building I-TECH on a philosophy no one else can deliver on; offer the best in new technology, pack it with every available feature, deliver it at the lowest price in the industry, support it instantly and keep it running with zero impact on our customers!
We call it… Value Dynamics and it's the integral component to our corporate strategy.
We take press waste seriously, and guarantee to get the last ounce of control perfection out of every inch of your paper. With I-TECH register controls, "better, faster, lower price" is not just a cliché. It's a promise that forms the very foundation of our company!
I-TECH specializes in color to color closed loop register systems and multiple web/ribbon register control systems for;
Carton and Packaging
Commercial Printing
Newspaper Production
Publication Printing
Direct Mail Manufacturing
Converting Applications
Label Printing
Web Offset
Sheetfed
Gravure
Flexo
Innovative Products delivered by industry professionals who strive to exceed the expectations of our customers.